Jeff Staubach
Jeff grew up in Dallas and graduated from Jesuit College Preparatory School in 1993. He graduated from Duke University with a degree in economics. While at Duke, Jeff was a four-year letterman on the Blue Devil baseball team, and then signed a minor league contract with the New York Yankees, playing two seasons with the Greensboro Bats.
In 1998, Jeff joined The Staubach Company as an analyst in the financial services division, where he handled acquisitions of single-tenant properties across the country, working on over $1 billion in sale-leaseback transactions. From 2002-2017, Jeff worked in the office brokerage side of the business for Staubach and JLL. During this time, Jeff served as the broker lead for the Dallas office, and in his last two years as the president of the South Central region comprised of 800+ employees and $100 million of revenue.
Jeff and his wife, Jenny, have three busy teenagers. Jenny is a graduate of Southern Methodist University and is a full-time mom and part-time volunteer with United To Learn. Jeff and Jenny support several local organizations, including Children's Medical Center, Baylor Scott & White Dallas Foundation, The Center for Brain Health, Genesis Women's Shelter, Young Presidents' Organization, (YPO), United To Learn, Austin Street Center, Highland Park United Methodist Church, Jesuit College Preparatory School, Ursuline Academy and Christ The King Catholic School.
Tyler Arrington
Tyler joined Staubach Capital in September 2018 as a Senior Associate and was promoted to a Partner in 2020. He has a broad range of responsibilities including development, acquisitions, finance/underwriting, project management, asset management, and dispositions.
Prior to joining Staubach Capital, Tyler spent almost 5 years at Hillwood, a Perot Company, where he served as an Analyst and Senior Financial Analyst. In these roles, Tyler led Hillwood Properties' underwriting efforts of speculative and build-to-suit developments, acquisitions, and joint venture opportunities across virtually all product types (land, industrial, office, retail, mixed-use, data center, multifamily, and hotel). During his tenure there, Tyler played an integral role on a variety of closed transactions including developments, acquisitions, equity interests, refinances, and dispositions, valued at over $1.5 billion. Before joining Hillwood, Tyler spent 1 year as a Financial Analyst at Colliers International in Los Angeles, CA on a brokerage team that focused on multifamily and land acquisitions and dispositions.
Growing up the oldest of five in a military family, Tyler lived in Texas, Georgia, and most recently Washington state before moving to Southern California to attend college. Tyler graduated from Pepperdine University's 5-year accelerated BS/MBA program in 2013 where he earned a BS in Business Administration and an MBA in Finance. In 2017, Tyler graduated from Harvard Business School's Real Estate Management Program (one week intensive) as well as Leadership Fort Worth's Young Leaders Program, Leading Edge. Tyler currently lives in Dallas and enjoys spending time with family and friends, wakeboarding, golfing, hiking, and traveling. He is and has been involved in organizations including Ronald McDonald House of Fort Worth, Urban Land Institute, Real Estate Council of Greater Fort Worth, and Leadership Fort Worth.
Jennifer Hinze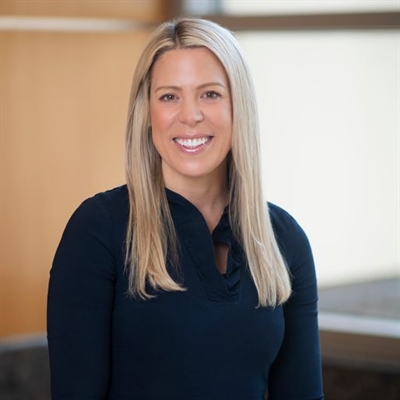 Jen oversees all corporate and project financial/treasury management, accounting, and tax preparation efforts.
Jen started her career at PwC, in the Personal Financial Services Group, where she earned her CPA and worked on complex tax returns and filings for private partnerships and family offices. She later joined the Private Wealth Division at Goldman Sachs, where she focused on investment portfolios and cash management needs for high-net-worth clients. Before joining Staubach Capital, Jen worked as the Controller for The Crystal Charity Ball, a non-profit organization that raises funds for children's charities in Dallas County.
Jen graduated Cum Laude from Brigham Young University in 2001 with a Bachelor of Science degree in Accounting and a Master of Accountancy degree in Tax. Jen lives in University Park with her husband, Rod, and their four children.
Monica Stocks
Before joining Staubach Capital, Monica spent 10 years with JLL as an executive assistant and nine years with Trammell Crow Company in various administrative and marketing roles. Monica graduated from ESS College of Business in 1997 with a degree in legal assisting. She lives in Talty, Texas, with her husband, Eric, and two daughters. Monica is involved with the Student Ministry at Lake Pointe Church in Forney, where she is an active member.
Richard Reupke
Richard R. Reupke has been a partner and Chief Financial Officer at Columbus Realty Partners since the firm's inception in 1999, and has over 35 years experience in real estate development, finance, and accounting. Prior to joining Columbus Realty Partners, Richard served as Chief Financial Officer for MacFarlan Real Estate Services, preceded by his career as Chief Financial Officer for Columbus Realty Trust (NYSE:CLB), a publicly traded Real Estate Investment Trust based in Dallas. Richard managed the financial team involved in taking CLB public with Robert Shaw in 1993, as the successor to several affiliated multifamily companies of The Staubach Company. During his 4 year tenure with CLB, the Company grew from approximately $150 million to $500 million in assets, and from approximately 2,000 apartments to over 7,000 units.
Since Columbus' return to a private partnership in 1999, Richard has managed the equity/ debt transactions and relationships for development of more than 13,000 apartments units & mixed use projects with a total capitalization of over $2 billion.
Robert Shaw
Robert Shaw is Managing Partner of Columbus Realty Partners, Ltd., which traces its roots back to 1987 when he created his first company to pursue the creation of walkable, live, work, play neighborhoods. Underlying this idea was a fundamental optimism about cities, their urban cores, and long term viability. At the time, such optimism was not widely shared, so the difficulty of attracting private capital to pursue this strategy led Mr. Shaw to take the idea to Wall Street. In 1993, he took his company public as Columbus Realty Trust, a REIT traded on the NYSE (symbol "CLB").
With public capital in place, Columbus was able to aggressively expand this idea to multiple cities, and over a four year time frame fully proved the market demand. The success of his projects helped kick off a renaissance of residential living in the American city urban core that continues to this day. In 1997 he merged CLB with Post Properties, and in 1999 resumed operations as a private company to continue his life's work. Since that time he has been involved in the development of over 13,000 apartments, condominiums and townhomes along with neighborhood based retail space. Much of that development has been in urban areas in such diverse neighborhoods as Uptown Dallas, Uptown Denver, Midtown and Downtown Houston, Downtown Austin, Downtown Plano, Downtown McKinney, the Cultural District of Fort Worth and the Roosevelt Historic District in Phoenix. Mr. Shaw has also been significantly involved in the creation of large suburban mixed use master developments such as Addison Circle, Legacy Town Center, Legacy West and Domain in Austin. He has worked in all facets of residential development, including construction management, development and property management.
Mr. Shaw attended the University of Tennessee on a football scholarship, where he was honored as Team Captain and named to the All-SEC team in 1978. He was the first round draft pick for the Dallas Cowboys in 1979, playing three years before a career ending knee injury. While playing for the Cowboys, he continued his education at the University of Texas in Dallas and received a B.A. in Business in 1981.
Bill Cawley
Bill Cawley is the brand and vision behind Cawley Partners, a full-service, Dallas-based real estate company that focuses on commercial office product. Over the course of his career, Bill has owned all classes of commercial real estate in multiple markets across the country. Continually recognized by D CEO Magazine as one of the most influential business leaders in Dallas-Fort Worth, Bill has acquired and developed more than 12 million square feet of commercial office product. His company, Cawley Partners, has been the premier office developer along the Dallas North Tollway, developing more than $500 million of Class A office space and totaling more than 1.5 million square feet within the last 5 years.
Bill Cawley most recently served as the 2020 Chairman of TREC (The Real Estate Council) and is a past board member of NTCAR (The North Texas Commercial Association of Realtors and Real Estate Professionals). Bill is an active member of ULI (Urban Land Institute) and serves on the SMU COX Folsom Institute for Real Estate Advisory Board. In addition to his industry related committee positions, Bill serves the local community as a Board Member of Children's Medical, while also supporting numerous charitable organizations.
Roger T. Staubach
Prior to his retirement in July of 2018, Roger T. Staubach was Executive Chairman of JLL Americas, a professional services firm specializing in real estate. Roger's role focused on client relationships and new business development. With 2017 global revenue of $7.9 billion, JLL serves clients in 80 countries from more than 1,000 locations worldwide, including 300 corporate offices and a global workforce of 82,000.
The firm offers integrated services delivered by expert teams worldwide to clients seeking increased value by owning, occupying or investing in real estate. With 2011 global revenue of $3.6 billion, JLL serves clients in 70 countries from more than 1,000 locations worldwide, including 200 corporate offices. The firm is an industry leader in property and corporate facility management services, with a portfolio of approximately 2.1 billion square feet worldwide. LaSalle Investment Management, the company's investment management business, is one of the worlds largest and most diverse in real estate with more than $47.7 billion of assets under management.
Prior to joining forces with JLL, Roger was Executive Chairman of The Staubach Company, a market leading global real estate advisory firm that delivered cost-effective solutions for office, industrial and retail clients. When Roger entered the commercial real estate industry in 1977 the concept of "user representation" was not widely practiced. He saw the potential in this idea and was committed from the outset that The Staubach Company would exclusively represent users of space.
He expanded services to meet clients' ever-changing requirements. Areas of expertise included strategic consulting, site selection, acquisition, disposition, construction consulting / project management, real estate administration, portfolio management, facility management, business and economic incentives and financing and capital solutions. The Staubach Company's 1,600 people served 3,000+ clients from 70 North American offices and completed 7,280 transactions totaling $28 billion and 200 million square feet during the fiscal year 2007.
Known for its unparalleled standard of business and personal ethics, the company served the following clients: Advanced Micro Devices, Blockbuster Inc., Burlington Northern Santa Fe, Carter & Burgess, Cisco Systems, CVS Corporation, Office Max, Patterson Companies, PBS, PepsiCo, Science Applications International Corporation, Sumitomo Mitsui Banking Corporation, T-Mobile USA, Target, Time Warner Cable, United Stationers and Wachovia Corporation.
In July 2008, The Staubach Company merged with JLL, bringing together the unique strengths of two powerful organizations into one integrated global company.
Education and Affiliations
A 1965 graduate of the United States Naval Academy with a bachelor of science in engineering, Roger served four years as a Navy officer. After the Navy he joined the Dallas Cowboys professional football team and launched his real estate career while playing football.
Roger served as the Chairman of the Host Committee for Super Bowl XLV which was held in North Texas in 2011. He continues to be involved with The Children's Cancer Fund, the United States Naval Academy Foundation and numerous other civic, charitable, and professional organizations.
Honors and Awards
Among the many honors bestowed upon Roger are the 2018 Presidential Medal of Freedom, Commercial Property News' "Corporate Services Executive of the Year" (four times), the 2006 Congressional Medal of Honor "Patriot Award," the NCAA "Teddy Roosevelt Award" for being one of the "100 Most Influential NCAA Student-Athletes," the American Jewish Congress "Torch of Conscience Award," and the United States Naval Academy "Distinguished Graduate." Additionally, he was inducted into the Texas Business Hall of Fame, was honored as a "Texas Legend" by the Galleria Chamber of Commerce, was presented the annual "Spirit of Generations Award" by The Senior Source of Dallas, received the North Texas Entrepreneurs Foundation's "2005 Spirit of Entrepreneurship Award," presented the "Inaugural Award for Excellence in American Entrepreneurship" from the Bard Business School at the University of Colorado, Denver, given the North Texas Commercial Association of Realtors' "Hall of Fame Award", selected by the Boys & Girls Clubs of Greater Dallas for the "2007 Natural Leader Award," given the "J. Erik Jonsson Ethics Award" from the SMU Cary M. Maguire Center, named Dallas Business Journal's "2007 Business Person of the Year", and in 2007 he was presented the "Horatio Alger Award" and inducted as a lifelong member by the Horatio Alger Association of Distinguished Americans. Roger received the Rube Foster Award from the Texas Black Sports Hall of Fame and the prestigious Magellas Award.
Boards - Honors - Associations - Awards
Current Board Member
Children's Cancer Fund, Advisory Board
Institute for Aerobics Research, Board of Trustees
United States Naval Academy Foundation Board
JPMorgan Chase Military and Veterans Affairs Advisory Board
SMU Maguire Center for Ethics, Advisory Board
Past Board Member
AMR Corporation
Brinker International
Cinemark
JLL
The Salvation Army, National Board of Advisors
United Way of America, National Board
PowerUP – Bridging the Digital Divide, Board of Directors
Civic
American Academy of Achievement Golden Plate Award, 1976
Dallas Jaycees Man of the Year, 1976
Fellowship of Christian Athletes
Brian Piccolo Award, 1979
Distinguished Service Award, All Sports Assn. of Dallas, 1980
DAR, Medal of Honor, 1985
Henry Cohn ADL Humanitarian Award, 1988
Dallas/Fort Worth Entrepreneur of the Year Award, 1990
Young President's Organization, 49'er Member
Dallas Citizens Council
Special Olympics
The Oak Cliff Lions Club Humanitarian Award, 1992-93
Mission Award, St. Edward's University, 1998
United Way of Metropolitan Dallas CEO of the Year, 1999
Texas Business Hall of Fame, 2000
NCAA Theodore Roosevelt Award, 2000
Lamar Hunt Award, 2002
Texas Legend, Galleria Chamber, 2004
Spirit of Generations Award, Senior Source of Dallas, 2004
Junior Achievement Dallas Business Hall of Fame Award, 2005
Fellowship of Christian Athletes Tom Landry Award, 2006
SMU Cary M. Maguire Center J. Erik Jonsson Ethics Award, 2006
Congressional Medal of Honor Patriot Award, 2006
Boys & Girls Clubs of Greater Dallas Natural Leader Award, 2007
Horatio Alger Association of Distinguished Americans Horatio Alger Award, 2007
Holocaust Museum – Humanitarian Award, 2010
Lamar Hunt Award, 2011
SEAL Legacy Award, 2011
Woodrow Wilson International Center Awards – Public Service, 2012
Roaring Lambs – 2012 Hall of Fame Honoree
George E. Haddaway Award for lifetime contributions and service, 2014
Erik Jonsson Award – United Way, 2014
Texas Black Sports Hall of Fame – Rube Foster Award, 2016
Magellas Award, 2016
CoSIDA – Dick Enberg Award, 2016
Presidential Medal of Freedom, 2018
Industry
Office & Industrial Properties Executive of the Year, 1998
Commercial Property News Corporate Services Executive of the Year, 1999, 2000,
2001 & 2007
North Texas Commercial Association of Realtors Hall of Fame, 2006
Dallas Business Journal's Business Person of the Year, 2007
Football
Career Record, Regular Season Games, 116-41-1
Heisman Trophy, 1963
Walter Camp Memorial Trophy, 1963
Maxwell Award, 1964
Thompson Trophy Cup (US Naval Academy), 1963, 64, 65 (Best All Around Athlete)
Naval Academy Athletic Association Sword, 1965
Bert Bell Award (Maxwell Club), 1971
NFL Players Most Valuable Player, 1971
Sporting News NFL Player of the Year, 1971
Most Valuable Player, Super Bowl VI, 1972
Texas Pro Athlete of the Year, 1975
Vince Lombardi Sportsman of the Year, 1975
Field Scovill Award, All-Sports Association of Dallas, 1975
Columbus Ohio Touchdown Club NFL Player of the Year, 1976
Washington, D.C. Touchdown Club NFC Player of the Year, 1976, 78
NFC Pro Bowl Selection, 1972, 77, 78, 79, 80
NFL Leading Passer, 1971, 73, 78, 79
NFL Players' Association NFC Offensive Player of the Year, 1978
NFC Offensive Player of the Year, 100 Club, 1978
Byron "Whizzer" White Humanitarian Award, 1979
NFL Players' Association NFL Passing Champion, 1980
Walter Camp Football Foundation Man of Year, 1985
Pro Football Hall of Fame, 1985
Walter Camp Football Foundation College Quarterback of the Century, 2000
Cotton Bowl Hall of Fame, 2000
American Football Coaches Association Tuss McLaughry Award, 2001
Davey O'Brien Legends Award, 2002
Peyton Manning PeyBack Award, 2002
National Quarterback Club (NFL Organization), Hall of Fame Award Winner, 2004
Vince Lombardi Award of Excellence, 2009
Jay Wagley
Jay Wagley is the Vice Chairman and Co-Managing Director of CBRE's Dallas Debt & Structured Finance group. Mr. Wagley is also Co-Regional Manager of the firm's debt and structured finance platform throughout Texas, Oklahoma, and Colorado. Jay Wagley oversees the Dallas DSF group with Vice Chairman and Co-Managing Director, Mike Bryant.
During his 25-year career, he has originated more than $15.2 Billion in commercial real estate loans; has completed equity and debt financing for multifamily, office, retail, industrial and hospitality properties. In 2015, Mike Bryant and Mr. Wagley completed 146 deals for approximately $2.4 Billion. Mr. Wagley possesses extensive loan modification and debt restructuring experience and is knowledgeable of all lending sources including all major life companies, CMBS, GSE's and various alternative funding sources.
Prior to joining CBRE Capital Markets, Mr. Wagley was a commercial lending officer in the World Banking Group of Chemical Bank and a senior consultant for Kenneth Leventhal & Company where he assisted real estate firms in various consulting engagements.
Professional Affiliations / Accreditations
Licensed Real Estate Broker, Texas
Colbert Coldwell Circle Member
Freddie Mac Multifamily Advisory Board
The Partnership Foundation, Board Member
St. Philip's Foundation, Board Member
Community Involvement
Board Member of the Partnership Foundation
Board Member of St. Phillips School and Community Center
Education
Massachusetts Institute of Technology, Master of Science; Real Estate
University of Virginia, Bachelor of Arts; Economics
Significant Assignments
Apartment Portfolio, Florida, Texas, Utah, Garden 3,532 Units
Austin Ranch, I, II and VI, The Colony, TX., Walk-Up, 1,561 Units
Emory and Ashmore at Horizon North, Dallas, TX., Garden, 712 Units
Avalon and Thornbury at Chase Oaks, Plano, TX., Garden, 702 Units
The Bravern, Bellevue, WA., High Rise, 455 Units
Canyon Chase, Westminster, CO., Garden, 358 Units
Platinum Shavano Oaks, San Antonio, TX., Garden, 350 Units
Avalon at Mission Bay North II, San Francisco, CA., High Rise, 313 Units
AMLI Eastside Apartments, Austin, TX., Mid-Rise 290 Units
Jefferson Marketplace, Washington, DC, High-Rise, 281 Units/Retail
Junction 1504, Charlotte, NC., Walk-Up 281 Units
Avalon Marina Bay, Marina Del Ray, CA., Garden, 205 Units/229 Slips
Clients
Aetna
Avalon Bay Communities
BH Equities
CAF Capital
Clark Residential
Crest Asset Management
Glorious Sun Holdings
Greenfield Partners
Invesco
Milestone Group
Olympus Property
Pensam Capital
Provident Realty Advisors
Silver Oaks Multifamily
Trammell Crow Residential
Time Equities
Univesco
Westwood Residential
Wil-Tex Equities